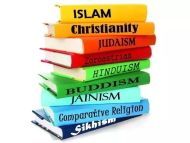 How to didactically promote among students of different confessions, the capacity of a critical analysis and understanding of the role played by religions in the history of mankind
Building Students' Interreligious Competences in Communication
and Adaptation in a Cross-Cultural Environment

2. Religion as a Source of Exclusion and Conflict
This paragraph shows how religion is often used as a means to trigger or subdue a clash, offering a kind of "flag" to identify the "enemy": radicalism and fundamentalism, that offend God's name, preach hate against the other. When fundamentalism denies religious freedom, it undermines peace because it persecutes man and prevents the free search for the Absolute.
This is a crucial juncture to help students understand how
To the frankly religious factor of these struggles and contrasts there are mixed, to varying degrees, political, economic, social factors, so strong as to overshadow the religious element and to relegate it to a function of pure "myth", to a programmatic declaration covering other purposes.
Religion still has so much attraction, so much charm that it can be used as a watchword, as a flag around which to convey the passions and energies of men and women for whom faith loses its mere theological - doctrinal quality, and becomes, instead, a passionate motive of so much strength that martyrdom and death can be confronted with.
In this context it seems appropriate, with real examples related to the age of the students, to
Identify the characteristics of the different "religious wars" in past history
Foster understanding of the relationship between modernity and fundamentalism
Promote the construction of free and responsible identities, able to communicate with each other
Online Resources
Practical Activity
Do religions feed conflicts? The activity can be carried out either in a historical or in an inter-disciplinary perspective, involving the subject of History. The activity can be divided into some emblematic steps, which can then be further expanded:
• The crusades and the conflict between Christians and Muslims in the Middle Ages
• The conflicts between Catholics and Protestants between the 16th and 17th century
• The conflicts between Shiites and Sunnis between the 20th and 21st century.