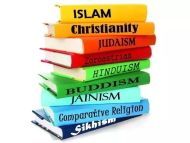 How to didactically promote among students of different confessions, the capacity of a critical analysis and understanding of the role played by religions in the history of mankind
Building Students' Interreligious Competences in Communication
and Adaptation in a Cross-Cultural Environment

4. Interfaith Map of the Local Community
The aim of this section is to evaluate what is known and how much we need to learn about the presence of religious and spiritual traditions in the area in which we operate, considering the local and regional communities, laying the foundations for positive relations between different people and religious groups. According to the different age groups, the starting point might be research carried out in the group-class first, in a group of classes later, and in the whole school at the end. The research might then be extended to the relationships in the appropriate community (condominium, district, country) and in the wider area. The mapping of the different religious expressions should also take into consideration those who do not belong to any religious community, or do not practice any religion.

Obviously it is of utter importance to foster active learning by students, either through an internal debate, or through a survey in other classes (oral or written questionnaires) and adults (family members, relatives, neighbours). Thus, students can - individually and in groups - directly discover the existing differences and build a frame of reference.

The survey should consider the places of worship present in the area and their types (whether in buildings exclusively or specifically used for worship, the period in which the presence of that religious community began), the size, composition and characteristics of the identified religious community, the presence of a religious hierarchy and the type of internal organization. The analysis will then have to cover the activities carried out by the identified religious communities, the relations with other religious groups, the role of women, the presence of educational, cultural and welfare activities.

The research aimed at building the map should be appropriate to the age of the participating students; if the school organization allows, it might be really useful to involve students of different ages.

The research carried out in order to build this map is also of particular relevance for the development of the next steps of the guide.
Online Resources
Practical Activity
Do we know our community?The results of the research are presented to the school in a public assembly, through a video presentation with drawings, graphics and images and an evaluation and comment on the results. Representatives of local religious communities and civil authorities are also invited to the assembly.