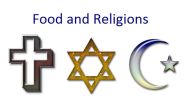 Description and comparative analysis of the dietary rules of different religions and confessions
Dietary Rules

4.2. Apostles Fast
The Apostles Fast, also called St. Peter's Fast, pays a tribute to the Holy Apostles Peter and Paul by emulating their rigorous preparation for the missionary undertakings that established the early Christian Great Church.

Having rejoiced for fifty days following the Resurrection of Jesus Christ, the Apostles began to prepare for their departure from Jerusalem to spread the Good news. They fasted and prayed to God to strengthen their resolve and assist them in their quest. As they were filled with the Spirit of Truth, among the other heavenly mysteries, the apostles also adopted the doctrine of spiritual abstinence.

Purification through fasting was established in early Christian communities as a way to perceive the gracious gifts of God defeat temptations. After the bright and joyful feasts of the Resurrection, the Ascension, and the Pentecost, a period of abstinence is required in order to preserve the blessing of the Holy Sacraments. Believers emulate the spiritual practice of the apostles and honour their will and endurance to continue their mission under persecution.

The beginning of the Apostles Fast is related to Easter and therefore its duration varies. The Fast begins on the second Monday after Pentecost (the day after All Saints' Sunday) that can fall as early as May 18 or as late as June 21. The Fast continues until the Feast of Saints Peter and Paul on June 29. In different years, its duration varies from eight to forty-two days.

The Apostles Fast is not as strict as Great Lent or the Dormition Fast, but entails abstinence from meat, poultry, eggs and dairy products. On Wednesdays and Fridays the consummation of fish, wine and oil is not allowed. The fasting is lessened on the Feast of the Nativity of St. John the Baptist (June 24).

Devine services on weekdays during the Apostles Fast are similar to the Services during Great Lent, with some variations. Many churches and monasteries in the Russian tradition perform the Lenten Services on at least the first day of the Apostles Fast.
Pictures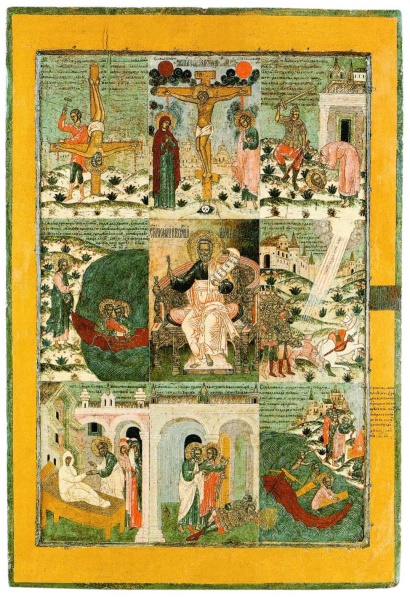 Scenes from the lives of Apostles Peter and Paul- Late 17th century.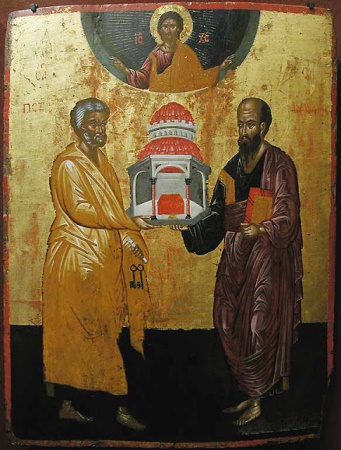 Pillars of the Church
Saint Peter and Saint Paul portrayed as pillars of the Church. 16th century icon from the Cretan school.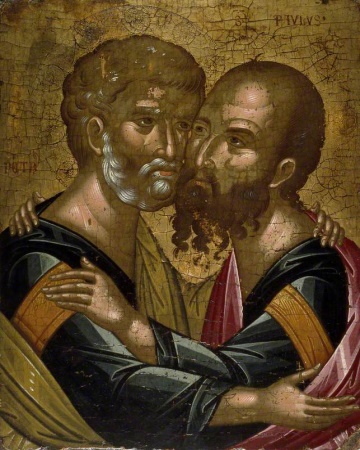 The Embrace of the Apostles
Icon of The Embrace of the Apostles Peter and Paul, 46.4 x 37 cm, Cretan school, Angelos Akotantos, 1st half 15th century.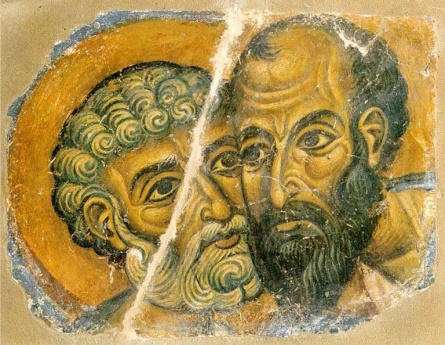 Vatopedi embrace
12th century icon of the embrace of St-Peter and St-Paul. Vatopedi monastery, Mt. Athos. According to tradition, the two saints embraced before being executed.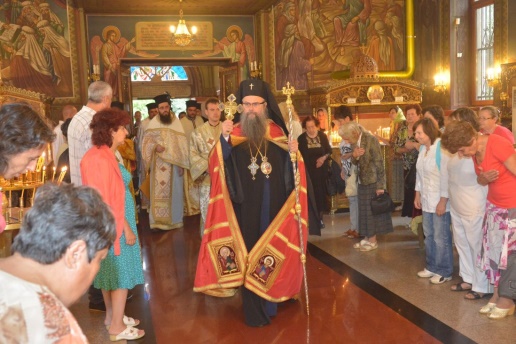 Feast of the Apostles service
Bulgarian Orthodox Church 2018.
Videos
The Feast of the Apostles
An informative short video in English, introducing the Holy Apostles Peter and Paul, their work, commemoration and iconography.
Troparion for the Holy Apostles Peter and Paul (Greek)
Chanted by Archimandrite Nicodemus Kabarnos